Warning
: Declaration of SLB_Content_Handlers::get() should be compatible with SLB_Base_Collection::get($args = NULL) in
/home/rasahe5/public_html/wp-content/plugins/simple-lightbox/includes/class.content_handlers.php
on line
281
Lab Testing has its place in any practice…but is it enough?
It's often frustrating when a patient hands me their lab work or recent CBC (Complete Blood Chemistry) and tell me their primary care Doc said, "it's all good ….nothing to worry about" and then we analyze it according to a Functional model and we find a number of imbalances that suggest something entirely different.
It's important to understand that any lab testing only provides a piece of the puzzle and the information provided is only as useful as the level of skill of as the practitioner analyzing the results. There is also the pitfall of false positives and samples that have been contaminated or even worse is sending the same sample to three different labs and getting three different results. I'm often dismayed by what insurance companies are willing to pay and accept as the "standard of care." Some of the most useful biomarkers such as Vitamin D, and Thyroid antibodies and Leptin are not recognized as "standard of care and Doc's don't bother to run the panel because the insurance company will deny payment and the patient will be left paying out-of-pocket.
At raSahealth we have found it valuable to test in multiple ways. We embrace the 5 levels of health and healing model and we know that bio-chemistry is only one small piece of the human design.
Have you gone to the Doctor with a concern of a small mass or symptom and the Doc say's I don't see anything to be concerned about come back in 3 months and we'll check it again. Why is that? It may just be because the Docs know that many of the tests they rely on are not very "sensitive" and if they wait long enough eventually the test will come back positive. Frankly, the longer you wait to "find" the problem ….the bigger the problem has become. Cancer has been developing many years before there are symptoms or before the traditional tests we rely on are sensitive enough to detect the anamoly. We know the longer you have it…the harder it is to correct. By the time a mass has developed on a breast and detected through a mammogram it may be several years after the cells began to change. Therefore, using "sensitive" tests and cross checking through different systems often reveal imbalances before they become life-threatening.
One test we can use is a Functional interpretation of your blood chemistry which compares the patient to a population of "healthy" people instead of a population of sick patients which results in a far wider bell curve and ultimately leads to the Doc saying "you're blood work was fine! We'll see you next year." Let's look at this option a little more closely.
BioChemistry
Most Docs are using the conventional laboratory reference ranges for blood chemistry and CBC interpretation. For many practitioners blood chemistry and CBC analysis is a matter of comparing a test result with the conventional laboratory reference range, seeing whether or not the patient's results are normal or abnormal and attempting to fit them into a particular disease pattern or pathology. These conventional laboratory ranges are designed to identify and diagnose disease states and pathology. People who fall within the reference range are assumed to have no clinical signs and symptoms of any disease, and are considered "normal." Have you heard of someone who had just been cleared in their yearly physical only to drop dead of a heart attack only weeks later.
Practitioners of Functional and holistic medicine understand that symptoms of deep fatigue, migrating muscle aches and joint pain, numbness, tingling, and brain fog is not normal. Yet our patients with these symptoms do not have a clinically identifiable disease. As a result they are told by their doctor that they have an "unremarkable" or "normal" laboratory test, i.e. they are "clinically" normal or "it's all in your head." They may be normal when compared to a database of the sick or diseased , but often they fall into an entirely different light when compared to a population of those with optimal health. As a practitioner trained in Functional interpretation of Blood Chemistries we know to also look for trends and patterns that may indicate the need for further investigation.
This patient's lab was considered "normal" by his medical doctor yet when we ran his panel according to functional analysis we saw a pattern of elevated AST, decreased Co2 and increased alkaline phosphotase which placed her at an 78% risk for congestive heart dysfunction.

We can no longer rely on the "standard of care" as dictated by insurance companies. Insurance companies are in business to earn a profit. Their focus is sick care not "health" care.
I've posted before about my personal loss and journey with a beloved brother who spent a lot of time in and out of hospitals.. Near the end time when I visited I could see he was very ill. Yet I asked his specialist how he was doing and they answered "we expect a great recovery!" I began to weep silently. My brother asked, "what's wrong,"….I said, "I hate to see you like this." He said, "Why? Do you think I'm sick?…. The Doctors tell me I will recover."
My prognosis was very different. I looked at the tongue, the nails, the pulse, the eyes, his bio-field and I saw decay and loss of life. This was a perfect example of relying on labs only or having a Doc who has no skill interpreting the numbers or the signs. I did not need the "labs" to tell me how he was. His body told me everything I needed to know.
.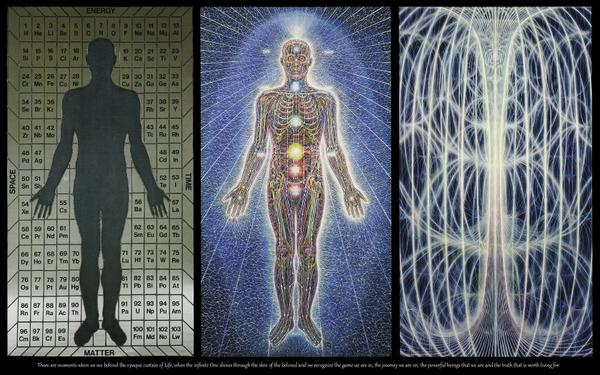 This picture represents the 3 levels we are evaluating. (Left) The physical body (through chemistry) (Middle) The Biofield through Bio resonance and (Right) Autonomic Response Testing.
Have you had the experience where one day your computer "isn't working the way it used to?" It's slower…the files may appear rearranged and everything takes longer. So you call Tech Support and they guide you through the steps…check the cables, the monitor, the processor, the connections, the keyboard and you say everything is fine….You even bang every key and nothing changes and the voice on the other ends says "everything seems to be fine." But YOU KNOW EVERTHING IS NOT FINE. The breakdown isn't in any one individual part– it is IN THE WHOLE. It could be the operating software. This is why conventional medicine is limited. It only looks at the individual parts In fact—we have specialists for every part but no doctor to assess the whole.
Bioresonance testing offers a view of the whole.
BioResonance Testing
Information leads to Transformation!
Physical matter is only one interpretation of the human body. It has been what Western medicine has focused on for the past 100 years. Other cultures and systems of healing recognize that the body is composed of and emits light. In fact, these ancient systems embrace a model that understands it is the bio-field that influences the bio-chemistry and many of their treatments revolve around physics and the use of frequency, resonance, sound, light and more. Therefore, if we are only assessing a patient according to their biochemistry we are missing the forest through the trees.
The bioresonance system we use in our office is based on a "frequency matching" model. Once the patient is scanned their blueprint is matched against the "optimal" and the results are reported in various graphs, graphics and colors. Perhaps, you are aware of the connection to emotional trauma and heart disease. There are numerous studies to show the affects of emotional trauma and heart disease. This information is stored in the bio-field and able to be matched to specific locations in the body.
Remember the patient with the 78% risk for Congestive Heart Dysfunction? After we performed their Bio-resonance scan we were able to precisely identify the underlying emotional patterns locked in their field indicating an earlier trauma surrounding the concept of "loss." When questioning the patient they revealed the significant loss they had experienced only 3 years ago with the untimely passing of two loved ones. We began a multifacted approach and immediately began to address the underlying factors significantly decreasing their risk.
What you see here is a matching of the concept of "loss" revealing itself in the "coronary veins" as depicted by the RED in each of the following scans.
Note: The primary focus in this scan is anything in red. Notice the "red" indicating coronary veins in the first figure.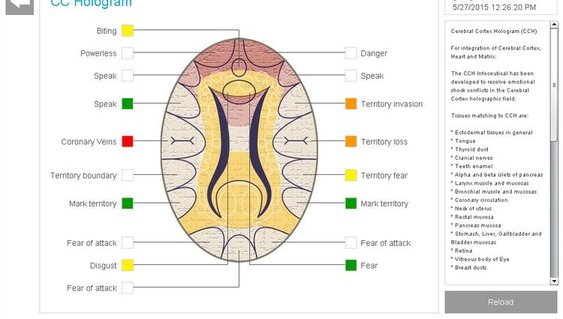 Note: Highest focus is shown in "red." The concept of "loss"
Can someone die from a brokenheart? Internationalgriefcouncil.org was founded by three women from three different cultures and three different countries as each of them tell their personal story of how grief and profound loss tore their worlds apart and left them changed forever. Their lifework is now dedicated to counciling, guiding and helping others with a profound and unshakable sense of loss rediscover themselves and their wholeness.
In our patient care we use Applied Psycho Neurobiology to address this level of healing

Bio Field Testing
See your health in a whole new light!
Great minds have often said if you want to understand life you only have to observe nature. Most of us have at one time or another planted a seed and watched it grow. Think of the components you need…seed, soil, water, oxygen and light. This summer I often sat in the morning and reflected on how the trees in our yard would twist and bend themselves as to only draw closer to the light. Seasonal Effective Disorder (S.A.D.) is a condition that effects millions as the seasons turn into winter and our light dependent bodies yearn to feel the nourishing rays.
Our dense physical body is composed of things that the naked eye cannot see–atoms, molecules, chromosomes and cells. However, words like "atoms," "chromosomes," and "cells" can hardly describe divinity's creative activities or the true nature of life. Our cells contain the DNA/RNA memory codes and intelligence factors to access and fulfill their evolutionary advancement.
In the 1970′s, Fritz-Albert Popp, theoretical biophysicist at the university of Marburg in Germany was looking for the difference between two similar hydrocarbons. Although their chemical structures are virtually the same, one of them is carcinogenic. He discovered the only difference between them is how they interact with UV light. He performed his test on 37 other chemicals, some cancer-causing, some not. After a while, it got so that he could predict which substances could cause cancer. In every instance, the compounds that were carcinogenic took the UV light, absorbed it and changed the frequency. When he presented his findings at a conference for oncologists, they told him it was crazy. They said his results must mean light is being emitted by cells. Popp said, "YES!"
Popp and one of his students developed a photo-multiplier that could measure light emitted by cells, photon by photon. His research showed that our own cells produce biophotons that communicate with one another. These photons are coherent, as in laser light. Coherent light occurs when the wavelengths are the same and the waves are in phase with one another.
The work in Biophotons has challenged our accepted understanding of cellular processes. Light does two things in the body. First, it changes the condition of the atoms for the order of the system. Second, it transfers information between the cells. We have over 100,000 reactions per second in each cell. These reactions must be activated by a process that works much faster than enzymes can. Only light can do that–provide the information to coordinate 100,000 reactions in each cell per second! The body also uses light to make order, a special kind of order. It is the knowledge and understanding of these principals that encouraged Dr. Klinghardt to develop Autonomic Response Testing. You may find it interesting to know that this model is accepted widely throughout Europe. In fact, Dr. Klinghardt has often said his patients in Germany would much prefer a Laser Energetic Detox and Autonomic Response Testing instead of any lab or pills he may have in his black bag. Yet, his patients in the U.S. are so conditioned to receive a prescription when they go to their Doc they feel like the visit wasn't valuable if they leave without one.
There are many tools and techniques to assess the Bio-field. Autonomic Response Testing is the tool I am certified in and it has been a lamplight on a sometimes dark and lonely path and a wayshower when other Docs said there was no way.
To find a Certified practitioner near you click HERE
Learn more about
If you have read this far then you are one of the few that has begun to think outside the box of our current understanding of health and healing. Like you–I am on a journey to greater awareness and understanding. By no means is the information here meant to imply we have all the answers. Like the popular folk song, "The Bear Went Over the Mountain and …what do you think he saw? He saw another mountain…" We are experiencing a paradigm shift in what health is and how to heal. Everyday there are dynamic leaps in physics and the new biology pointing the way to what may be another mountain waiting to be discovered. If you are one who has felt the inner nudge that we are more than our biochemistry and know that by not addressing the other principals of human design we are in fact missing the forest through the trees– jump on board and explore what's possible on the frontier of greater health options. I'll meet you on the mountain.
Interested in learning more about health and healing beyond your biochemistry? Join us for this 4 week series